Most sleepers are familiar with foam beds, innerspring mattresses, and hybrid models, but what about foam springs? This is the unique technology mattress company Dormeo is offering its customers.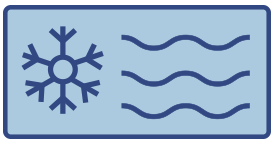 Specifically, these springs are part of an all-foam, patented Octaspring® system that aims to provide head to toe support via an optimized zoned design. The Octaspring® system also allows air to move through the mattress, keeping people cool at night.
Dormeo has a range of different mattress — a mix of all-foam and hybrid models — designed for every person and every budget. I'm going to break down the construction, comfort, pricing, and more, so you can decide if a Dormeo mattress should be your next bedding purchase.
The Company: Dormeo
Dormeo was founded in 2002 and is an international bedding brand based in the United Kingdom. The team sources its memory foam from Italy, where they've found high-quality materials at affordable prices. Customers can purchase Dormeo beds online, or visit the company's main showroom in Buckinghamshire.
The mission of the company is to provide optimal comfort where it is needed most — which is, of course, our bodies— stressing that healthy sleep is one of the most important pillars of a happy and fulfilling life. In addition to mattresses, customers can also purchase duvets and pillows from Dormeo.
Click here to head over to Dormeo
Dormeo Mattress Collections
Dormeo offers different five mattresses, including memory foam, hybrid, and latex beds:
Dormeo S Plus Memory Foam
Octasmart Plus Memory Foam
Dormeo Memory Plus Memory Foam
Octaspring Hybrid
Octaspring 9500 Latex Memory Foam
Let's take a look at the construction of each mattress.
The Dormeo S Plus is a 20-centimeter memory foam mattress. It features a divided, flippable core so each person in bed can choose if they want a plush or firm feel. Simply unzip the cover and flip one side of the mattress to choose between two Ecocell® foam densities. Sleepers can also rotate the core to get zoned support either at the hips or shoulders, depending on their needs.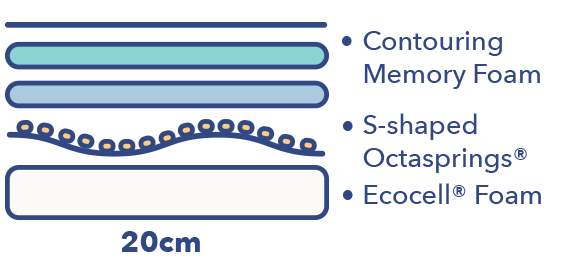 The top of this bed features 2 centimeters of contouring memory foam, which allows the body to sink into the top of the structure for some satisfying pressure relief.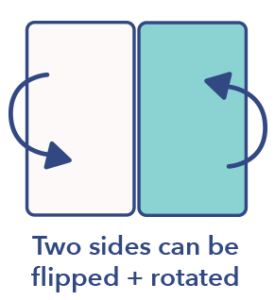 Beneath that is Dormeo's unique S-shaped layer of Octasprings® comprised of springs made of foam that aim to provide the support of traditional springs with the comfort of plush foam. The "S" shape is inspired by the natural contours of the human body, and is constructed with zoned support to target the head/shoulders or hips/legs. Sleepers can rotate the mattress to get targeted support either higher up or lower down the body.
Lastly, the core is made of 18 centimeters of Ecocell® foam, making this a true all-foam bed. Dormeo's Ecocell® foam is a proprietary "next generation" foam designed to be permanently elastic with a 3-dimensional cellular structure.
The mattress also features special anti-bacterial, anti-dust mite and anti-fungal protection in its materials, along with handles to make it easier to flip the bed around.
The Octasmart Plus Memory Foam mattress is an 18-centimeter memory foam mattress. Unlike the Dormeo S Plus, you can only rotate the mattress — not flip it — to get zoned support in specific areas of the body.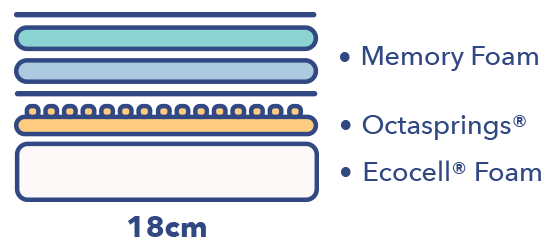 The top layer of this mattress features open cell memory foam that aims to mold to and cradle the body. Beneath that is 9 centimeters of the company's proprietary Octasprings® section that helps alleviate pressure from the back, hips, and shoulders. The bottom layer is 3 centimeters of Ecocell® Foam for a supportive base.
The Dormeo Memory Plus Memory Foam mattress is 17 centimeters tall and is Dormeo's original, best-selling bed.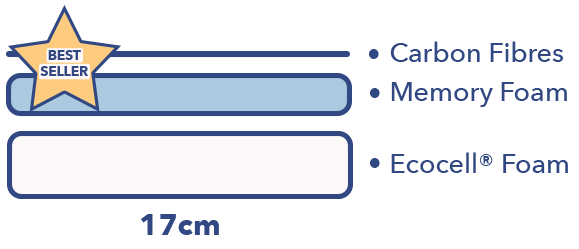 The top layer of this mattress is a Florentine stitched cover with carbon fibres woven directly into it. These fibres aim to create a barrier to dust and particles in the air to ensure a hygienic sleep surface. The mattress cover is also infused with Sanitized® protection, providing the sleeper with anti-bacterial, antimicrobial and anti-dust mite protection.
The memory foam layer underneath the cover is 3 centimeters thick, allowing the body to sink into the bed and enjoy some pleasant pressure relief. Unlike the other mattresses, this bed does not have Octasprings®. Instead, a 14 centimeters tall section of Dormeo's Ecocell® foam comes right after the memory foam.
The Octaspring Hybrid is 27 centimeters tall. It's also Dormeo's only hybrid mattress, combining both traditional steel coils with the brand's optimized foam ones.

The cover is made with Superstretch™ fabric, which claims to stretch up to 50 percent more in each direction than traditional fabric. It's also removable, washable and utilizes anti-allergenic protection made from natural probiotic ingredients to help ward against allergens, dust mites and bacteria.
Underneath the cover is a layer of memory foam, followed by a single section of Octasprings® and a foundational layer of 960 pocketed steel coils. These springs are placed in separate fabric pockets for independent movement, which allows them to transfer less movement than regular spring systems. Meanwhile, the Octasprings® feature three zones of various strength and densities to target the head, shoulders, torso and legs.
The Octaspring 9500 Latex Memory Foam mattress is a 30 centimeter mattress that utilizes both latex and memory foam.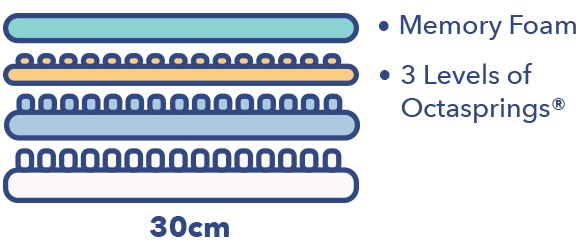 The cover also features the Superstretch™ fabric found on the Octaspring hybrid bed. Beneath the cover is 4 centimeters of latex foam, which is on top of a section of memory foam. This combination of foams provides more bounce and lift than memory foam alone, which can sometimes cause the sleeper to feel like they're stuck in the mattress.
Below the foam layers are three layers of Octaspring® memory foam springs, which are arranged in eight specific zones to target pressure points and create a comfortable night's rest. All eight zones are made with different strength and densities to offer specific support to the head, shoulders, torso and legs.
Click here to head over to Dormeo
Dormeo Mattress Collection Feel
Dormeo offers both all-foam and hybrid options, but there's one thing that ties all of these mattresses together: memory foam.
In general, memory foam contours to the body and offers soothing pressure relief to sensitive spots along the body, most notably the shoulders and hips. This type of foam tends to "hug" the sleeper and offers deep compression and support.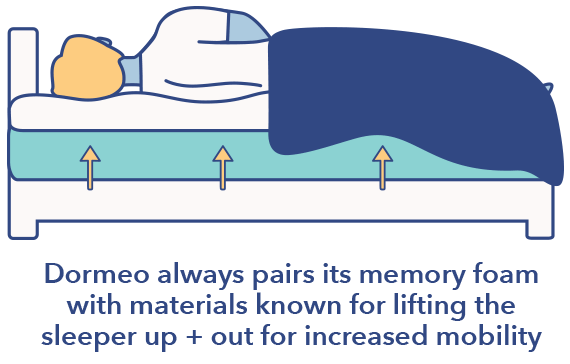 While some people love this contoured support, others find it causes their body to sink too far into the mattress and get "stuck," making it hard to change positions throughout the night. This is most likely why Dormeo always pairs its memory foam with steel coils, foam springs, or latex foam, materials known for lifting the sleeper up and out of the structure for increased mobility.
In addition to memory, the brand's special foam coils also make an appearance in four out of the five Dormeo beds. This Octasprings® system is made up of memory foam springs that are said to be eight times more breathable than traditional memory foam, which has a reputation for trapping heat. They also combine the spring of pocketed coils with the plushness of foam for an all-encompassing sleep experience.
Given the wide selection of beds available through the site, it's possible for sleepers across the comfort spectrum to find the mattress that's right for them. A general rule of thumb is that side sleepers will want a softer mattress to cushion the hips and shoulders, while stomach sleepers should go for something firmer to protect the hips and core. The Dormeo S Plus Memory Foam mattress features a divided, flippable core, so both kinds of sleepers can choose between a firm or soft bed. The others are all labeled medium or medium firm, so if you want something truly soft, the Dormeo S Plus is probably your best option.
Common Praise & Complaints
After reading dozens of reviews from Dormeo sleepers, here are the major themes I found across all the mattresses:
Dormeo Praise
"I can feel a difference in my back." A lot of sleepers said their Dormeo mattress helped alleviate stiffness in their backs. While back pain is something to discuss with your doctor, it sounds like the zoned support found in the foam helps add some extra cushion and support to problem-places in the body.
"It's not too hot, as with some thicker memory foam mattresses." While memory foam is infamous for trapping heat, a handful of Dormeo customers said they stayed cool all night long. This is likely due to the space between the foam coils which allows air to move through the mattress.
Dormeo Complaints
"I got sold on their Octaspring tech, but it just makes weird bumps in the mattress." Many reviewers said the mattress was lumpy due to the shape and design of the Octaspring® system. Many people called the bed "lumpy," and said it took time to get used to the overall feel of the foam springs.
"A lot of sinking everywhere." Durability seems to be the number one issue for Dormeo sleepers. Over time, people complained of sagging and sinking, saying the mattress started to break down only after a few years of sleeping on it.
Basic Information
Sleep Trial: 60-day free trial
Warranty: There is a 15-year, limited warranty on this mattress
Shipping: Free delivery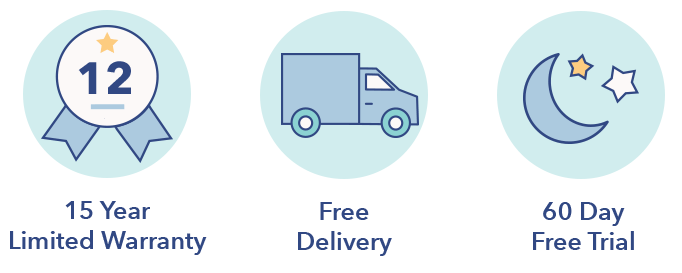 Sizing and Pricing Information
Click here to head over to Dormeo
If you're interested in learning more about the price and specs of each mattress, check out the information below.
| Size | OctaSmart Plus Memory Foam | OctaSmart Deluxe | Memory Plus | Octaspring Hybrid | Octaspring Latex |
| --- | --- | --- | --- | --- | --- |
| Single | £599.99 | £699.99 | £529.99 | Out of Stock | Out of Stock |
| Double | £799 | £899.99 | £629.99 | Out of Stock | Out of Stock |
| King | £999.99 | £1,099.99 | £799.99 | Out of Stock | Out of Stock |
| Super King | £1,199.99 | £1,299.99 | £899.99 | Out of Stock | Out of Stock |
Is the Dormeo Mattress Right for You?
Now that we've discussed this entire mattress collection, here's why it might be a fit for you.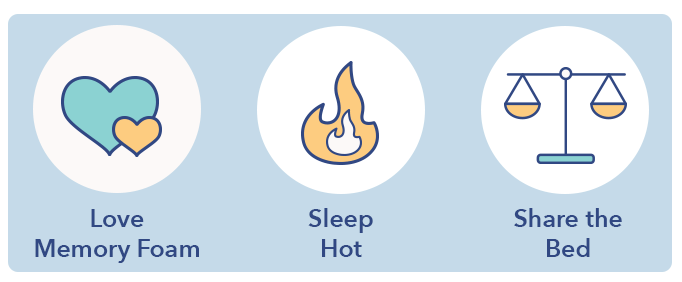 You love memory foam – Memory foam takes center stage in each Dormeo mattress. If you enjoy the contouring and hugging qualities of this type of foam, you'll most likely enjoy one of these beds.
You sleep hot – If you're a foam bed lover who is afraid of being too hot, Dormeo could solve your problems. Cooling foam technologies and pocketed coils help keep air moving through the mattress so you stay cool.
You share the bed – One of the Dormeo beds — the Dormeo S Plus — actually allows each side of the mattress to flip and rotate, so each person can choose a comfort option that works for them. Meanwhile, the use of pocketed, foam springs will help isolate motion throughout the structure, which. is helpful if one or both sleepers tosses and turns throughout the night.
Dormeo Mattress Summary
The Dormeo mattress collection offers innovative technology through the use of its foam coil system, breathable, eco-friendly materials and zoned support within the mattress that can be rotated and sometimes even flipped. With many options to choose from, all different types of sleepers could find a lot to love on one of the Dormeo beds.