Meet the Sleeping Duck mattress! Sleeping Duck initially launched in Australia 3 years ago, more recently they have expanded into the United Kingdom. Those down under loved the design and performance of the Sleeping Duck, but does it have what it takes to win over the Queen's faithful?
Continue reading below to find out!
Sleeping Duck Coupon: Use code SLEEPO to save £50 off any Sleeping Duck mattress.
In a rush? Click here to skip down to the review summary.
Construction
Layers
The Sleeping Duck is a 30.5 cm mattress built from layers of memory foam, latex, and coils. Atypical to most mattresses, sleepers have the ability to switch firmness levels by unzipping the cover and swapping out the foam layers. For this review we are focusing mainly on the medium firm version of the Sleeping Duck.
Top layer (cooling & comfort) – 1.9 cm of latex foam. This top layer is designed to provide both the cooling and comfort for the sleeper. Additionally, the latex is very responsive, which helps in terms of bounce and prevent any sort of a "stuck" feeling.
Second layer (pressure relief) –  1.9 cm of memory foam. This layer is glued to the bottom of the latex layer and helps to work with the top layer to create great pressure relief and a slightly increased degree of contouring.
Middle layer (support) – 6.4 cm of polyfoam. This layer is placed below the latex to aid in pressure relief while providing a high level of support for the sleeper. The polyfoam also functions as a transitional support layer, which helps to create a smooth transition between the foam and pocketed coils below.
Bottom layer (support & foundation) – 21.6 cm of pocketed coils. These coils provide the deep compression support for the sleeper as well as the foundation for the mattress as a whole.
Cover
The cover of the Sleeping Duck mattress is made from a blend of rayon from bamboo on the top and polyester side panels. The bamboo fabric makes for a breathable and soft top layer. Moving down to the side panels, the polyester provides a sturdier wrap around the mattress, helping to protect your bed.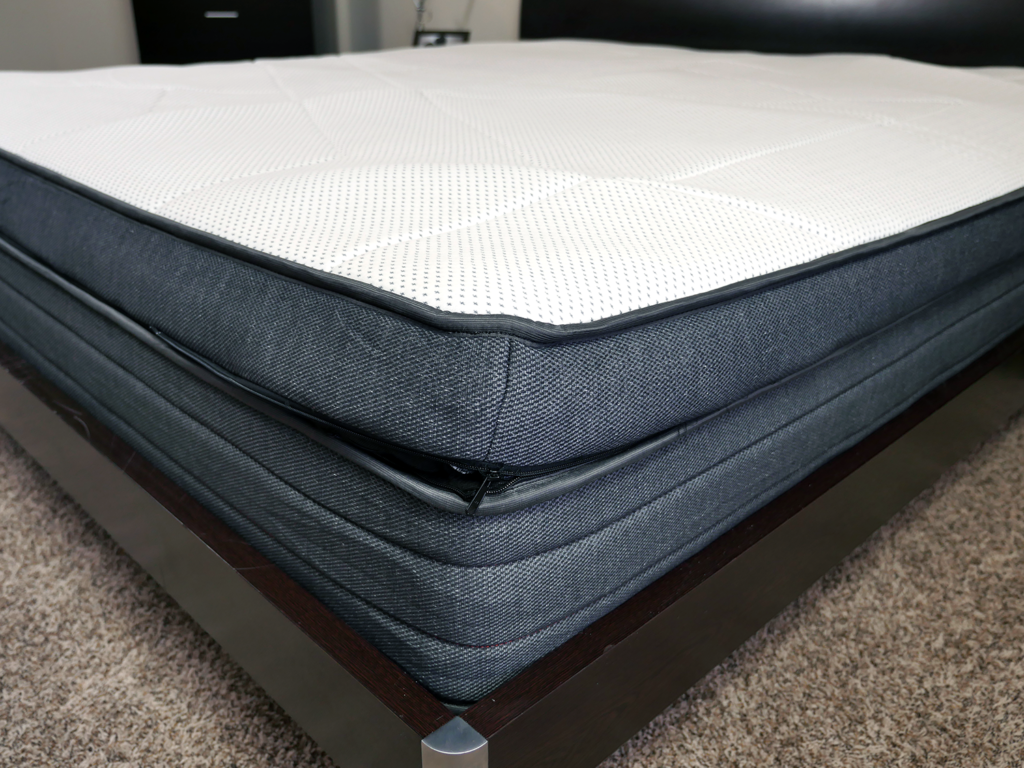 Additionally, the cover of this mattress is completely removable. Sleeping Duck designed the mattress with a removable cover to give sleepers the option of switching firmness levels (if needed; see below for more info). While the zipper itself is rather sturdy, the actual track for the zipper is not quite as good. Unfortunately, I ran into a few issues while zipping the cover back up. The zipper popped off of the track on both of my covers (I tested two for this review). I was still able to get the covers on and off, but the later 10% of the zipper couldn't be zipped close.
Aesthetically speaking, the cover of the Sleeping Duck is nice. They have adopted the two tone, grey and white color scheme with a small dotted pattern running across the top of the cover. Overall, I like the cover, but I would have preferred to see a little more style added to the design as a whole.
Firmness, Feel, & Support
The Sleeping Duck mattress is available in two firmness levels, medium and firm. The medium firmness is a 6-6.5 out of 10 on the firmness scale. The firm version is an 8-8.5 out of 10 on the firmness scale. You can also get a split version, which includes a half medium and half firm.

For starters, this mattress has a balanced level of sinkage and hug. Although the sinkage is not very deep, it is certainly enough to help relieve pressure points. The hug is similar, but I would not consider it to be an enveloped level by any means. This mattress does provide closer to that floating feel, with the exception of the small amount of sinkage you receive from the quilted cover.
Next, the support of this mattress is quite good. Hybrid mattresses tend to have high levels of support, but the zoned pocketed coils used in the Sleeping Duck take it a step further. The layers of latex and memory foam do an excellent job of providing pressure relief and a slight degree of body-contour, but the base layer of pocketed coils are what really bring this support to the next level.
With 5-zones of pocketed coils, the mattress is able to provide more support where you need it and less where you don't. Therefore, sleepers have the ability to sleep in virtually any position, as the mattress is able to adapt where pressure is created. Between my wife and I, we cover the main sleeping positions (side, back, and stomach). Whilst sleeping on the mattress, neither one of us felt as if it was not supporting us properly.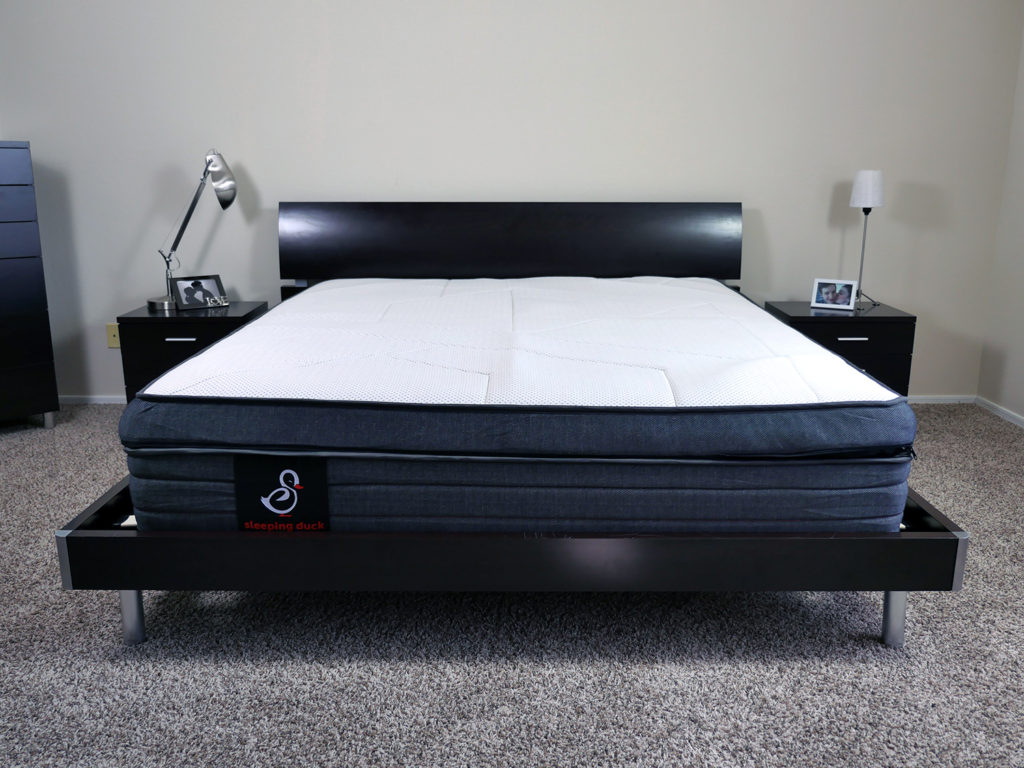 Cooling is one of the most notable attributes about the Sleeping Duck. Between the aerated latex top layer and hybrid design, this mattress is able to breathe easily and maintain a cooler sleeping surface. Throughout my sleep test I did not feel as if the mattress was retaining heat whatsoever.
Last but not least, bounce. Once again, the hybrid design of this mattress allows for an enjoyable level of bounce. The top layer of latex is extremely responsive, even when large amounts of pressure are applied. The combination of latex and a pocketed coil base adds a comfortable level of bounce, making amorous activities much more enjoyable. As a side note, the motion transfer of this mattress is quite good as well. Due to the top layers of foam, there is a low level of motion dispersed across the mattress.
Sinkage Tests
All mattress reviews on Sleepopolis involve a short series of sinkage tests. These tests are designed to provide you with an insight into how the mattress responds to various positions.
Lying on your back – as I lied down on my back with my weight spread evenly across the mattress, I saw 2.5-5 cm of sinkage.
Lying on your side – whilst lying on my side, I saw 2.5-5.7 cm of sinkage.
Sitting on edge (conservative) – in a normal sitting position with my bottom slightly further back on the mattress, I saw 7.5 cm of sinkage.
Sitting on edge (aggressive) – as I sat on the direct edge of the mattress, I saw 9.0 cm of sinkage.
Standing in the middle – with all of my weight placed at one point on the mattress, I saw 10-11.5 cm of sinkage.
Please bear in mind that sinkage results will vary dependent on your body type and weight. For the sake of reference, I weigh 10 stones. The above sinkage tests are based on the medium version of the Sleeping Duck.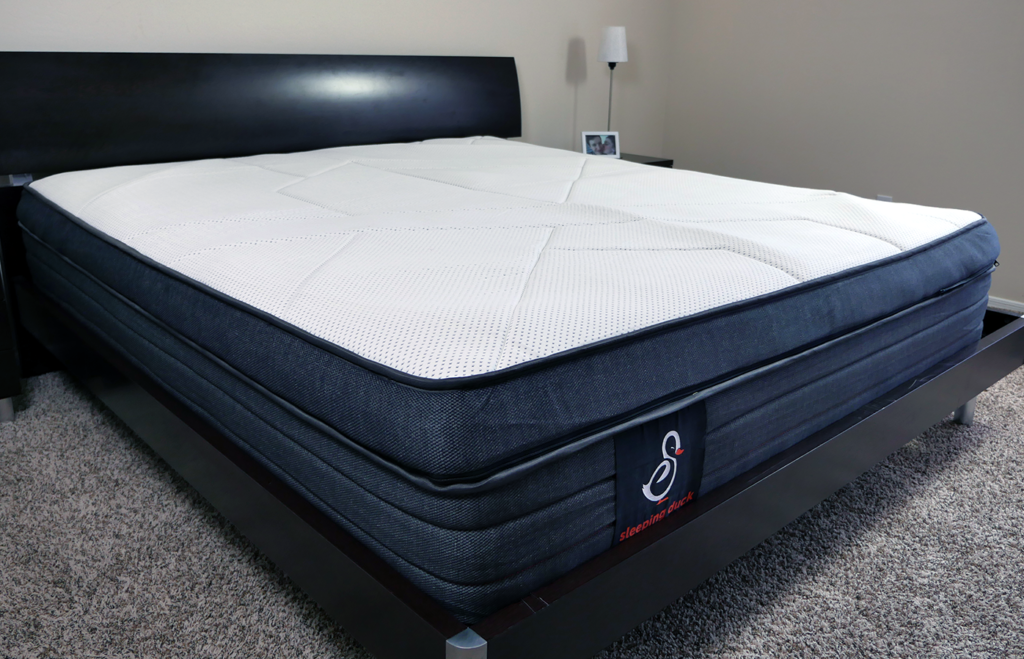 Pricing
| Size | Price |
| --- | --- |
| Single | £399 |
| Double | £549 |
| European Double | £599 |
| King | £649 |
| European King | £699 |
| Super King | £749 |
Other Details
Shipping – free, arrives compressed in a box within 1-3 days
Warranty – 10 years
Trial Period – 100 nights
Made in the UK
Discounts – £50 discount with code SLEEPO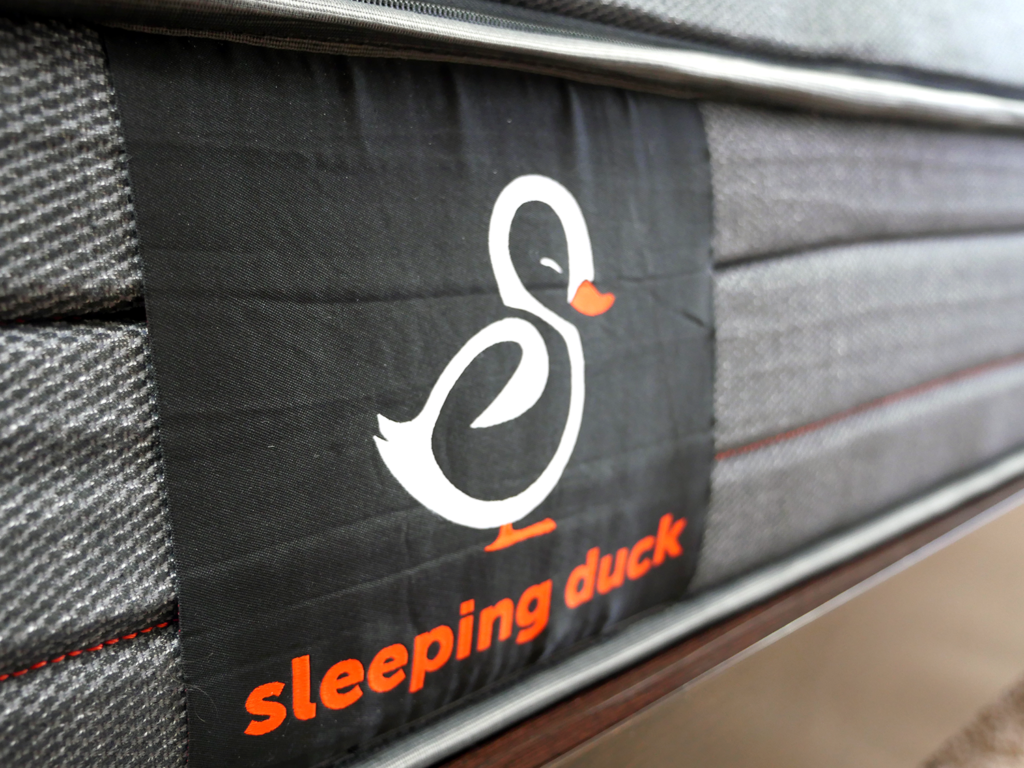 Should I buy the Sleeping Duck mattress?
I would recommend the Sleeping Duck mattress to sleepers who:
Want a medium or firm mattress – the Sleeping Duck mattress is available in medium, firm, or split feels. This is especially a good option if you sleep with a partner who has a different feel preference than you do.
Want a hybrid mattress – the hybrid design means great bounce, response, edge support, and cooling. There aren't many quality hybrids available online, especially at this price point.
Want a supportive mattress – the hybrid design makes a big difference once again here, but especially having zoned coils + foam layers on top. The result is more support where you need it and less support where you don't.
Want a cooler mattress – the pocketed coil base allows for a high level of airflow + a top layer of latex ensures the sleeping surface is both cool and comfortable.
For more information on the Sleeping Duck mattress visit SleepingDuck.com/uk.
Balanced feel, zoned support
Materials

Comfort

Support

Value

Cooling

Edge Support

Sex

Smell

Company

Refunds

Trial

Warranty
Summary
The Sleeping Duck mattress is a hybrid mattress made from layers of latex, memory foam, and a pocketed coil base. The combination of these materials makes for a supportive, cool, and pressure relieving mattress. Although there is no defined level of sinkage associated with the Sleeping Duck, there is enough to help with pressure points as well as motion transfer. With a 5-zone support system, this mattresses knows where to provide extra support and where you will need less. For the sleeper looking for that floating feel as well as high levels of support, the Sleeping Duck could be a great option.